Description
Managing Cancer and Living Meaningfully (CALM) Advanced Training Workshop for Healthcare Professionals
Dates: May 28th & May 29th, 2017
CALM is a brief, semi-structured, evidence-based, psychotherapeutic intervention designed to help people with metastatic cancer and their caregivers manage the practical and profound problems associated with advanced disease. The primary goals of CALM are reducing and preventing psychological distress.
This advanced, specialized training opportunity will emphasize skill development in CALM therapeutic techniques and processes, through clinical case presentations, didactic and experiential learning activities, and group discussion.
About the CALM Training Program
The CALM Training Program was designed to teach and supervise healthcare professionals in the delivery of CALM therapy. The program aims to provide core training for therapists new to CALM, to enhance the skills of current CALM therapists, and to support the adaptation of CALM therapy to different treatment sites nationally and internationally.
This workshop will focus on:
CALM therapeutic techniques and processes, with emphasis on skill development

Clinical case presentations and discussion from an international cohort of CALM therapists

The group supervision experience

Updates on CALM research
Workshop Rates
Regular Rate - 300CAD
Student Rate & UHN Employee Rate - 50CAD
Workshop Venues
Day 1: Sunday, May 28th, 2017, 8:30 AM to 5:00 PM
Day 2: Monday, May 29th, 2017, 9:00 AM to 1:00 PM (clinical half day), and 2:00 PM to 5:00 PM (research half day)
Venue: The Royal Canadian Yacht Club – located on the Toronto Island (boat launch at 8:45 AM, located at 150 Cherry St.)

The RCYC has minimum dress requirements – please consult their website (https://rcyc.ca/ABOUT-US/Dress-Code/RCYC_Dress_Code_2015.aspx) for more information.

Please note that the research half day constitutes a working group meant for those collaborators who are currently involved in research with CALM. Those who are not involved in research with CALM are welcome to inquire about research opportunities during the workshop. Please contact our team ahead of time if you have any questions about this.
Registration Information
Please complete an online registration form by clicking on the 'Register Now' button. After submitting an online registration, you will recieve an email with a payment link. Your registration will not be considered complete until payment has been received.
Included
- Breakfast and Lunch (Both Days)
- Workshop Certificate
- Handouts
About CALM Therapy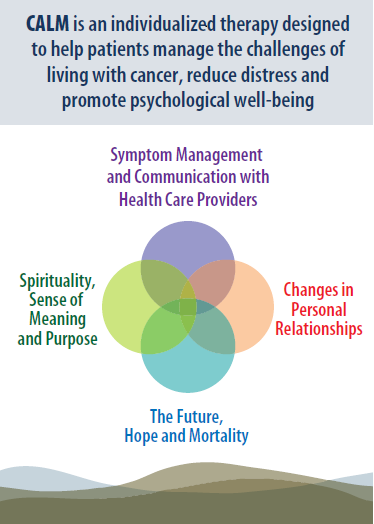 For more information on the CALM Program, please contact us directly at: calmworkshop@uhnresearch.ca.
Location
Venue: Princess Margaret Cancer Centre
Address: 610 University Avenue, Toronto, CANADA
Related Info