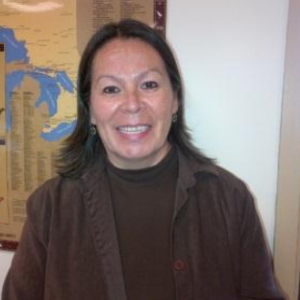 Director
Aboriginal Cancer Control for Cancer Care Ontario (CCO)
Alethea Kewayosh is the Director of Aboriginal Cancer Control for Cancer Care Ontario (CCO). This position is responsible for Aboriginal cancer control planning and coordination at CCO, and serves as the secretariat to the Joint Ontario-Aboriginal Cancer Care Committee, a committee with representation from the four First Nations Provincial Territorial Organizations, the Independent First Nations, Métis Nation of Ontario, Inuit, Ontario Native Women's Association, the Ontario Federation of Indigenous Friendship Centres and Aboriginal Health Access Centres.
Alethea has been involved in addressing health related issues on behalf of First Nations and other Aboriginal groups for over 30 years. Her early work in diabetes led to the development of the National Aboriginal Diabetes Association and to the development of Aboriginal specific diabetes programming initiatives at the national, provincial and community levels.
Alethea has long been an advocate for the improved health and well-being of Aboriginal peoples in Ontario, she believes the best approach to working with Aboriginal people is to be respectful of the diversity of the First Nation, Inuit and Métis peoples and their communities, knowledgeable of their governance and political protocols and considerate of the need to develop regular engagement and dialogue with each of the groups that lead to relationships based on trust and mutual respect. Alethea launched the Aboriginal Cancer Strategies in June 2012 and September 2015 which epitomize her approach to working with First Nations, Inuit and Métis people through direct engagement with each nation, now being formally established through the development of Relationship Protocols.
Alethea is Odawa and also has close family ties to the Pottawatomi and Chippewa Nations, she maintains a close affiliation with her home community of Walpole Island First Nation to visit family, relatives and to participate in community events.